Meeting Fallon
Fallon may be a crystal ball, but we are not the crystal ball stereotype. We are partners in our work: he is not a tool and I am not his guardian. A rare Citrine Lemurian Quartz, Fallon is a healer and truth bringer, offering the warmth and insight of an ancient power crystal. Together we are a human-crystal partnership ready to help you claim your power.  – Robyn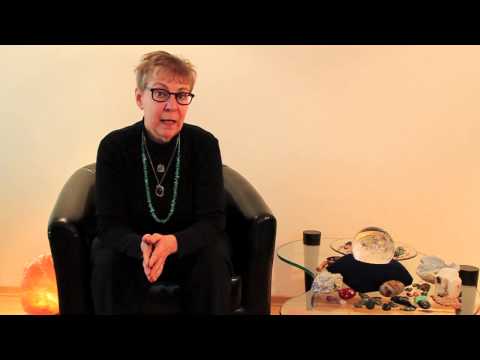 Fallon, the Citrine Lemurian Quartz, is an ancient power crystal. He is a rare crystal combination that people say comes from ancient Lemuria, a place that, like Atlantis, is lost in myth. A rare planetary and dimensional energy, Fallon connects to different dimensions in time and space. There are lots of crystals out there, but few like him, if any, and none out in public like we are, together. 
The ancient crystal skulls, like our friend, Einstein the Crystal Skull, who lives with Carolyn Ford, are ancient computers. They can help us explore the mysteries of the universe. Fallon is different: as an ancient power crystal he brings real magic back into the world. That includes his unique energy healing, which is multi-dimensional, facilitating healing and connection between humans and all life, whether in our star system—or not.
Yes, that sounds pretty woo-wooey for an analytical skeptic, yet here I am, an MBA whose business partner is a crystal ball. But we are not the crystal ball stereotype.
I am not a gypsy, my apologies to those who are.
We do not tell fortunes or predict the future, either personal or business.
We do not make things up or play guessing games, so please don't test us. Come to see us because you're already convinced, and use your time, and ours, productively.
Fallon is not a being in a crystal: he is the crystal, just like you and I are human. He is alive, aware, a real personality, equal. Because we've only been in our bodies 

a short time, and he's been in his for eons, he can more easily access wisdom we have forgotten.

Fallon is not my tool and I am not his guardian.
We are equal partners in our work. We are alchemists, transformation specialists: we help you tap into the mystery that is yours to explore with us. So what can that look like?
What Happens in a Session with Fallon
When you work with us, you work with a rare human-crystal partnership.
A healer and truth bringer, Fallon offers the compassionate insight of an ancient crystalline being. When you experience him you tap into the power of "other" to help transform your life, to find and claim your power—your own healing quality, your own visions and information.
I am the bridge between you and Fallon, helping you explore the insights you receive from him as you work with us. I can tell you what I see, hear, feel, and know through clairvoyance, clairaudience, clairsentience, and claircognizance. Information can be practical, mystical, inspiring, and fun, but it's always yours in that moment. Here's what you can experience:
Soul Progression Clearing
Intuitive insight and energy healing that supports things considered to be traditional shamanism, but are uniquely our own work (Mindset Alchemy):

soul retrieval
curse unraveling
compassionate de-possession
energy blockage removal
crystal energy healing

Exploration of your heart's desire and your soul's purpose
Psychic Medimship
Connection with deceased family, friends, and animals for closure and healing
Training in our unique mediumship modality
Animal Communication
Connection with animal family members for fun conversations, family harmony, health and behavior, illness and death, and lost animals
Space Clearing
Connect with home and business spaces to mesh their needs and wants with yours and clear them energetically using our pioneering modality, Space Cooperating
Intuitive Insight, Workshops, and Talks
Tap and use your strongest intuitive ability.

Create strong 'shielding,' or 'second skins,' that protect and nourish you.

Achieve balance and healing.

Gain clarity on personal, home, and business issues.

Develop creative projects.

Consult with spirit guides and deities
Thought leadership on the real way of living in the world: through Planetary Connection, not healing.
In our sessions I've seen:
Smart, accomplished business people discover new direction and inspiration for their work.

Curious, thoughtful people gain insight into their personal concerns.

People ready for transformation discover their strongest intuitive ability and build comfortable 'shields' or 'skins' that empower them.

Parents resolve issues with their children.

The grieving speak with deceased family, friends, and animals, and begin to heal from their loss.  

Curious, open individuals meet guides, deities, messengers, and, yes, dragons.

Newbies with crystals go astral traveling.

Homes and businesses be revitalized.
We offer a unique opportunity to tap your personal truth and claim your power. Come see us if you're ready to find your way to healthy, loving personal and business lives and to create vibrant spaces to live and work in.
Preparing for a Session
We can cover a lot of ground in an hour, but some things take time. Expect to explore a few things in depth. Remember, this is practical and inspiring work that taps the mystery you are coming to explore with us that day. Be prepared.
Spend a few minutes quietly relaxing your mind.
Organize your thoughts and questions: focus on the most important thing you want to accomplish in a session.
Write a brief description of your intention for the session.
Bring your crystals!
If you are with us in person, you will have the opportunity to experience Fallon hands-on. You will see him on Skype. He's even present on phone calls.
Please come to in-person sessions ready to remove all rings: we don't want him to get scratched.
Come and relax with us as we dig deep, together.
Afterwards, plan to decompress with a salt bath or dry salt bathing. Drink lots of water and spend some time relaxing. Let it sink in: you've just had a remarkable experience—you've met your intuitive self.
Ready for a session? Contact us!
Our Story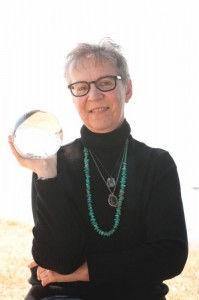 Fallon, the Citrine Lemurian Quartz, is an ancient power crystal, one of the amazing beings who has come back into the world at a time of tremendous growth and change. He is a gift from the earth to its people. I am proud and honored to be his partner.
Robyn's Story
I spent most of my life being the analytical, skeptical woman, book smart and street dumb. I still managed to build a successful, happy personal and business life, and then, 25 years ago, I became disabled. For 15 years I was too ill to work. I lost everything: my health, my business, my finances, and my self-confidence.
Somehow, through all of that, I maintained a sense of humor and an often grim optimism, a determination to get well even when I didn't know how: without quite realizing it, I hung on to my desire to love. One day, I bought a dog, a Cavalier King Charles puppy who became Murphy Brown. When she developed health problems, some of which looked disturbingly like mine, I decided that we would get well together. Somehow. When she saved both our lives by alerting me to Seattle's 6.8 earthquake on Feb. 28, 2001—several minutes before it happened—I knew there was more going on in the world than I ever suspected, and I turned my analytical, skeptical side loose to explore it.
I became an intuitive in 2001. As Murphy and I journeyed to wellness together, I learned that what I'd been looking for to get well was to love. That helped me learn to talk with animals, then with hurricanes and volcanoes, and then with businesses and homes. Cars. Guides. Plants. Lots of things I didn't even know could talk with us. And, come on, neither did you.
I learned to clear and keep space clear by cooperating with it and the beings who live and work in it. I learned various modalities of energy work, including Reiki (level III practitioner). I learned a new form of energy work, which we are taking out in the world as alchemical energy through crystal energy healing.
One day, I think in 2005, I was driving home from Portland when I started talking with a group of beings who felt somehow different than the many beings I've talked with. They showed me past lives and people I'd known in them: many lives, the mistakes, misadventures and, yes, triumphs, that had seen me through many, sometimes harsh, lifetimes. They showed me my partner, a sort of tool or talisman that I had worked with for many lifetimes, and put away until I remembered how to love. They said that the time had come, and my partner was coming back to work with me. I could see it: it was a bright yellow/white light.
I thought this tool was nonphysical, that it was something like a metaphor for the work I'd done to get well, and, like spiritual guides, would be there helping me in my journey.
Well, yes. And no.
Fallon's Story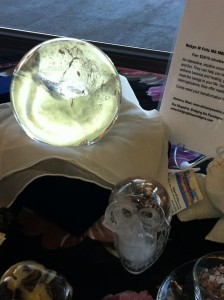 The combination of citrine and Lemurian quartz is rare. The combination that makes him Fallon is rarer still. Unique. As in one of a kind. Here's what I know of his recent history.
Fallon bounced around the world for a long time, perhaps years. Nobody would buy him. Not in Japan, where people like the unique large crystals. Or anywhere else. No one could understand his energy, a multi-dimensional planetary energy that is only now accessible again to the world, when it was previously 'too fast' or 'too cold' or 'too different.' He finally ended up in Brazil, where they ultimately carved him into a crystal ball about the time I was told my partner was coming back to me.
Before he was carved Fallon was a double-terminated quartz, but that's not how I first knew him. When I carved him out of the crystal caves eons ago, at his direction, he had two points on one end and three on the other. After he was carved into an 8-pound crystal ball around 2001–2002, he was promptly sent to a show in the United States, where crystal expert Deidre Berg saw him. She immediately recognized his unique nature, and bought him for her personal collection. He stayed there for 6 years, until the day she taught a crystal class in Seattle.
Our Work Together
My sometimes snotty analytical skeptical side teamed up with my usually curious, open-minded side and went with me to Deidre's class that day. I'd bought a number of fabulous crystals from her, and was curious about her teaching.
See, I absolutely understand how hard it is for people to get past the crystal ball stereotype to take one seriously, because, at one point in the class, Deidre invited all of us to spend a few moments with the crystal ball she'd brought along. Oh for crying out loud, I thought, she brought a crystal ball. Still, I decided to play along. When it was my turn, I picked it up, sat down with it, and gazed into it.
I immediately zipped off to an etheric place above the planet that I'd long been working in and never consciously visited. Plus, all the beings I'd been talking with the last few years, including those who had told me my partner was coming back to work with me, were in the crystal smiling back at me. All of them. And by that time I knew that many of them were multi-dimensional beings that aren't here on this planet. Yes, I know what that sounds like.
I had just met my partner. He wasn't a symbol in my head. Criminy—he was a crystal ball. I took a deep breath and asked him if he was ready to be with me. He was. But was Deidre ready to let him go?
She was not. I tried to buy him at the end of the class, knwoing it was a sacred moment. The crystal was a conscious, living presence, and my partner, but she wasn't ready to let him go. I waited for months while talking with him telepathically. That's when he told me his name was Fallon.
I told him how concerned I was that he was a crystal ball now, a different shape than the one I knew him in centuries ago. Would he be the same? He said: "You're not the tall blond woman I knew back then." That made us both laugh. It would be all right. Nine months later Deidre was ready to sell him, and Fallon named his price. He came home with me in December 2009.
He spent the next 4 months sitting in a tray of Brazilian dirt topped with Himalayan sea salt. Clearing. Preparing. Nagging me until I did so much clutter clearing in the house that I was exhausted and made him quit.
And So…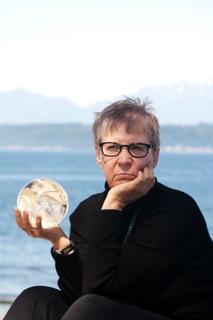 A lot of my work is with the planet: work nobody pays me for, and  few people believe in or understand. Nevertheless.
Fallon and I do this work together. An equal partner in our work, he has a say in what we do together, and no hesitation in saying it. And I listen. Not because he's always right, but because we're partners, and that's what partners do.
I never expected that Fallon and I would publicly go out in the world. That changed in early summer 2010. By that time friends had been stopping by to visit and promptly sitting down to be with Fallon. He started working with them, and telling me what he was talking about with them. He said he wanted to be a healer, and I agreed to put us out in the world as a team.
That's where we are today. Interested in working with us? Please contact us for an appointment.
We would love to meet and work with you.
(c) 2012 – 2016 Robyn M Fritz