OUR 2013 – 2014 INTUITIVE CONSULTATIONS SCHEDULE
Our consultations offer:
Mindset Alchemy: practical intuitive consultations and soul-level life, business, and creative coaching
Intuitive Mentoring: spiritual guides and mentors and intuitive development
Mediumship: talking with deceased people and animals
Animal Communication
Intuitive Consultations with Homes, Businesses, and Nature (land, water, and weather systems)
Space Cooperating: space clearing that meshes the needs, wants, and insights of people and their spaces
Our work supports yours in the world, from navigating your personal journey to a practical and intuitive look at your professional life and the mystery that is yours to explore with us.
CONSULTATIONS AT EAST WEST BOOKSHOP
Our upcoming consultation dates:
Saturdays, 12-5:  Dec. 7, Jan. 11, Feb. 8
Call East West to schedule or stop in for available times. $60/half hour, $120/hour.
CONSULTATIONS AT THE ALCHEMY WEST OFFICE
Appointments available by phone, Skype, or in person at our Alchemy West office.
Our 2013 – 2014 EVENTS SCHEDULE

INTUITIVE PLANETARY CONNECTION CIRCLE
First Tuesdays December 2013 – February 2014: Jan. 7, Feb. 4. Fee: $10.
East West Bookshop
6500 Roosevelt Way NE Seattle Call  1-800-587-6002 to register. Drop-ins welcome.
Contact Robyn
with questions.
Join us to explore how to be intuitive in a paradigm of planetary connection—of living as equals with all life. Once we let go of the limitations of humans responsible for planetary healing, and of humans as guardians and caretakers, we step into our power as equals, enabling ourselves and the world around us to grow in love and connection. True healing comes from compassionate equality. What is your intuitive strength? How can we create a healthy world in cooperation with all life? How does that inspire your personal, business, and creative development? How can you learn to connect with different beings: the weather, volcanoes, dragons, goddesses, plants, homes, cars, businesses, creativity, interdimensional beings. Come explore!
INTUITIVE ENERGY MANAGEMENT: Meet Your Second Skin WORKSHOP
Sat. Jan. 18, 2014. 12-3. $75.
Alchemy West office, West Seattle. MUST PRE-REGISTER! LIMITED TO 6 people.
Come meet your second skin: it's alive, it can communicate with you, and it has partnered with you since birth to support and protect you. The problem is, most of us don't know that. So … Are you sensitive to energy? Tired or uncomfortable at work or in crowds? Do you want to learn effective, reliable new techniques to manage your energy—to know when you are being affected and how to balance your physical and energetic bodies to be your best, most awesome self? Then come explore your second skin and learn how it helps you thrive! Come learn in a safe environment, hands-on with me and Fallon. You'll leave confident in your ability to deepen your energetic body and to intuitively understand how it works.
INTUITIVE COMMUNICATION WORKSHOP
USING YOUR INTUITION FOR FUN AND SUCCESS: Learn to Tap Your Intuition in One Afternoon
Saturday, Jan. 25, 2014
Alki Beach, Seattle. 12-5.
Fee: $125, includes theory and practice, one-on-one mentoring with Robyn and Fallon, and brief private follow-up within one week! Limit: 6 people. Join us! Contact Robyn to sign up.
This is a fun interactive workshop on learning to use your intuition: no one else teaches it like this! We GUARANTEE:
you'll identify and use your strongest intuitive skill in one afternoon
you'll learn balance, grounding, and energy management techniques that really work
you'll talk with animals, spirit guides, a car, the weather, a home, a business
you'll and leave confident and ready to claim a more prosperous, healthier, relaxed life!
It's fun and it works! Partner with your intuition—you may end up saving your life (I did, twice). You will learn how to create a better one!
ASK AN INTUITIVE PANEL 
Feb. 23, 2014. 3-6 p.m. $30
East West Bookshop. 
What do professional intuitives do? How can they help you find your intuitive way? A diverse panel of intuitive experts discuss their perspectives and practices, explore audience questions, and demonstrate their work. Deepen your intuition and join in a lively group discussion, including breakout sessions for in-depth exploration. Some topics they will explore are:
Energy healing modalities and practices

Intuitive and spiritual consulting

Animal communication

Mediumship

Space clearing
Bring your curiosity and questions!
Our Panel: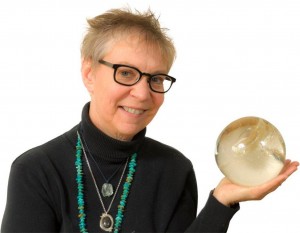 Panel moderator Robyn M Fritz MA MBA, is an alchemist: an intuitive consultant, animal communicator, medium, space clearing expert, alchemical crystal energy worker, award-winning writer, workshop leader, and speaker. She works with Fallon, the Citrine Lemurian Quartz, an ancient power crystal. Together they help people create vibrant, transformative, prosperous lives in partnership with their families, animals, homes, businesses, and land/weather systems.Find Robyn and her blog, Bridging the Paradigms, at Alchemy West.
 Stacy Calvert, CHT hypnotherapy, NLP, Matrix Energetics practitioner, owns Divine Light Healing. A business and life coach, she also offers Jean Haner's Chinese face reading technique, is co-founder of Northwest Mediumship Association, and serves as a medium with the Washington State Ghost Society. Find her at Divine Light Healing in Everett, WA.
 Joan Ranquet is an animal communicator, author, speaker, and founder of Communication with all Life University. Her books include Communication with All Life from Hay House and an upcoming book on energy medicine for animals. Find her at http://joanranquet.com/
 Rev. Judith Laxer is a modern day mystic who believes that humor, beauty and the wonders of nature make life worth living. She is the founding Priestess of Gaia's Temple, an inclusive, Earth-based Ministry with over a decade of service. She enjoys a successful private practice as a Spiritual Counselor, Psychic, Hypnotherapist, Shamanic Practitioner and Teacher of Women's Mysteries.  Find her at: www.judithlaxer.com or www.gaiastemple.org
Jeni Dahn is an shamanic practitioner and spiritual mentor who promotes healing by guiding clients toward releasing unresolved issues, patterns, and/or emotions that may cause dis-ease. You can find her at Light By Dahn
YELLOWSTONE INTUITIVE ADVENTURES
May 31-June 1, 2014.
Yellowstone National Park
Imagine it! Two days on an intuitive adventure in Yellowstone National Park! Join me as we explore our intuition–how to deepen our connection with our intuitive best self, create our best lives, learn to talk with animals, and learn to communicate with the land! Yellowstone is a partner in my business, a member of what I call the Alchemy West Committee, and has been a special retreat for me since my childhood. Come share the magic with me!
In two days you'll learn energy, balancing, and grounding techniques I learned from the goddess Con Ni, meet other beings eager to partner with us to create a vibrant planet, explore your personal goal for the weekend (from creative writing to personal rejuvenation), tap and use your intuitive ability, enhance your intuitive confidence, and just plain have fun! We'll end with a vision quest at Mud Volcano, in partnership with the animals, the land, your guides, and my planetary guide, Grey, and enjoy a potluck get-together the last night!
We'll explore the Lamar Valley (wolves and bears!), Norris Geyser Basin, Old Faithful and the lower geyser basin, and more!
Limited to 8 people. Includes hands-on mentoring, assignments, time to explore and to dig deep,  handouts, and 30 minute personal follow-up within 1 week.
Sign up now! It's already filling up! Cost: $400. Does not include transportation, food, or lodging. You'll need reservations by January to stay in the park. Contact Robyn for more details!
HOST A PRIVATE GATHERING WITH ROBYN AND FALLON
In an afternoon or evening gathering we explore the world of crystals and experience Fallon's rare planetary and dimensional energy. It's a relaxed, fun, inspiring event to explore Fallon, receive messages from him  and other beings, and gaze into him to see animals, guides, other worlds, and ancient lands, and explore the world of crystals and of being equal with all life. These gatherings are fun, inspirational, and deeply moving. Contact Robyn for times and arrangements.
This is our storytelling arm, where we explore our intuitive lives, the human-animal bond, earth changes, evolving communities, and working with Fallon. How? With intuition, metaphysics, science, smarts, humor, heart, common sense, and attitude. Come tell us what you think!
Our latest blog entries:
Check out our Guest Blog Spots at New Connexion: Pacific Northwest's Journal of Conscious Living!
Check Out Our Videos
We have three videos filmed by photographer/filmmaker Rhonda Hanley (Rhoda Hanley Producctions):
You can also find our videos on these pages: Space Cooperating at our space clearing page; demystifying a crystal ball at our home page; and talking with the dead at our intuitive consultations page.
We also have Skype interviews on our space cooperating clearing work with radio show host and coach CJ Liu! Check them out at her YouTube channel or on our videos page!
© 2013 Robyn M Fritz