WINNER: 2010 MERIAL HUMAN-ANIMAL BOND AWARD from the Dog Writers Association of America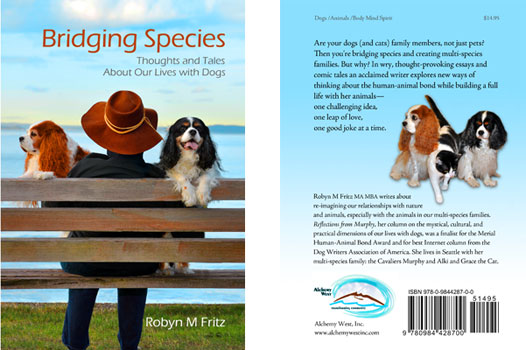 Bridging Species: Thoughts and Tales About our Lives with Dogs is a collection of thought-provoking essays and comic stories about how I created a multi-species family, from mystical, cultural thoughts to the bumbling practical difficulties and fun times. It chronicles my journey from a woman with a pet to a woman with a multi-species family—two dogs and cat—and the ideas we can all explore together as we figure out how to live authentic, full, fun lives with animals. It is a gift book for animal lovers, mystical and cultural thinkers—anyone who enjoys provocative thinking and fun stories about animals.
Bridging Species was created to bring people together in small groups to start conversations about new ways of thinking about the human-animal bond. What are the mystical, cultural, practical, and even comic ramifications of treating our animal companions as family members, as equals? Why would we want to do this? What could it mean for our communities and for an increasingly conflicted world that desperately needs new ways of getting along? How can these ideas of equality and responsibility between species connect us in harmony with all life, regardless of form? Does choosing to live with animals as family members make our lives with them better, more fun, or just too complicated?
In my intuitive communication practice I regularly speak with other beings, from homes and businesses to volcanoes and weather systems. It is my experience that all life, whatever its physical form, has a soul, a separate and distinct personality, consciousness, equality, rights, responsibility, and free choice to do its work. While this is a difficult concept for most people, many are willing to accept animals as equal beings, which is why they regard them as family members. Exploring these concepts in terms of our animal families can lead to creative, healthy change in our view of all life and in our role as humans in a diverse world.
With Bridging Species I am opening a fun, creative dialogue about how we explore our relationships with other beings, beginning with those who are most familiar to us: the animals in our own multi-species families.
This book is a prelude to a larger book, Murphy's Tales, about how my dog's good-humored zest for life despite chronic illness inspired our family's journey to wellness and sparked my intuitive abilities. I am also writing What Nature Tells Me, about learning to speak with homes, businesses, and nature, including wild/domestic land and weather systems, and what these beings have to say to us about joining together to equally contribute to the health and balance of our conscious, evolving planet.
Why It's Bridging Species: the Back Cover, and Then Some
Are your dogs (and cats) family members, not just pets? Then you're bridging species and creating multi-species families. But why? How do we respect, yet transcend, species? What are the mystical, cultural, practical, and even comic implications for our busy lives, our communities, and our evolving planet? In these wry, thought-provoking essays and comic tales an acclaimed writer explores new ways of thinking about the human-animal bond while building a full life with her animals—one challenging idea, one leap of love, one good joke at a time.
Many of us daily wonder why we live with animals—and know we wouldn't live without them. But when we start thinking about animal consciousness, rights, responsibilities, and simply getting along, we're suddenly propelled into a whole new world. Who sleeps where, who eats what, and who goes on a walk or sits on a windowsill becomes a bit more complex when we consider our animal companions' feelings—and attitudes. What do compassion, love, behavior, and even what species we are have to do with living in harmony with all life? Can you have fun and a life with animals?
Thanks to these Radio Show Hosts for Talking about Our Love of Animals and My Book!
 Hear my guest spots on the archived shows!
Dog Talk Radio
Julie Forbes and Dog Talk Radio Wednesday, June 16
th
, 2010 – 3-4pm – Show #70
http://www.dogtalkshow.com/podcasts/
Julie Forbes is the best kind of dog trainer: warm, understanding, and loving, with the smarts to helps dogs and their people create happy, healthy lives. Many thanks to Julie for the wonderful hour discussing my book and how we create and live well and long with our multi-species families!   
Fire Up Your Soul!
Linda Christiansen Fire Up Your Soul! Contact Talk Radio Wednesday, June 23, 2010, 8-9 p.m.
http://www.contacttalkradio.com/hosts/lindachristensen.html
Linda Christiansen is wonderful! A sharp radio host who is warm, intuitive, and appreciative of the larger world out there in which our souls and our creative spirits thrive. Many thanks for the great support and her awesome love of life and all beings in it, especially our beloved animal companions!
The Dr Pat Show
  Dr Pat Baccili Tuesday, July 13, 10-11 a.m. KKNW 1150 AM (
www.thedrpatshow.com
)
Listen to the archived copy now!
Dr. Pat is sharp, savvy, and supportive! I was a newbie guest and she was the most generous host! We talked dogs, and animals, and how we create animals with families. She was intrigued that I came by my intuitive skills from an analytical, skeptical background, that it took my dog, saving us both from an earthquake several minutes before it happened that made me think that there was more to the world than the human perspective. Dr. Pat supports a diverse community of people reaching out to each other and the world to create a vibrant, dynamic, pay-it-forward mindset. Listen to her! She's real. And thanks, Dr. Pat, for the opportunity to share my love of all life with your audience.
The Tim Link Show
with Animal Communicators Tim Link and Colleen Gordon Sunday, August 8, 2010, 1-2 p.m. EST All Paws Pet Talk Radio
www.allpawspettalk.com
at WLBE 790 AM  

Tim Link and Colleen Gordon are not just fabulous animal communicators, they are great interviewers and wonderful radio hosts, keeping their lively show moving fast, and revealing all the wonders of our lives with animals. Thanks to both of them for a fun time exploring my book and how we build healthy, thriving families.
The Catherine Bradford Show

Catherine Bradford Thursday, August 12, 2010, 3-4 p.m. Hear it now!  
http://catherinebradfordshow.com
  Catherine Bradford is an amazing radio host and a stunning interviewer! She was warm, smart, informed, and welcoming!  I was thrilled that she referred to my writing as 'heart-based.' When we love our animal families, it comes through! Thanks to Catherine for a wonderful interview. She reminded me that when we work at what we love we find the people who appreciate us–and we appreciate them in return! Here's to a vibrant community with Catherine a leader and inspiration to us all!   
Conscious Talk Radio
www.conscioustalk.net
) KKNW 1150 AM  
Listen to the Archived Show now!
Brenda Michaels and Rob Spears know what a warm, supportive, smart community is all about! And they love animals and their connection to us all. Thanks to Brenda and Michael for a wonderful interview. They raised difficult subjects like using animals for food and considering their feelings: exactly the kinds of things we need to be addressing in our world. How do we respect all life and live equally, responsibly, and with insight and humor?  
The Donna Seebo Show
Thursday, Nov. 11, 2010, 3-3:30 p.m.
With Donna Seebo, Mental Practitioner, Counselor, Teacher, Award-Winning Author, Minister and Radio/TV Personality Thursday, Nov. 11, 2010, 3-3:30 p.m.
The Donna Seebo Show – heard around the world, weekdays, 3-4 PST
Listen to the show here!
Donna Seebo is amazing! Smart, intuitive, savvy, and well prepared to talk in-depth with her radio guests. Donna knows what it is to love and be loved by all life, especially by our animal families. She read my book and made sure her audience knew what it was about and what they could find within it! Thank you, Donna!
Author Q&A
What is Bridging Species about?
It is a small gift book offering wry, thought-provoking essays and comic stories about how we can create not just a life with pets, but a a multi-species family, and how I created mine with the enthusiastic collaboration of my animals: the Cavalier King Charles Spaniels Murphy and Alki and Grace the Cat. Presented chronologically as written, the essays trace the growth of my family while exploring such issues as love, compassion, violence, behavior, misunderstandings, play time, and just plain getting along, including the sometimes hilarious, awkward goof-ups.
For example, in the essay, "On the Oops Factors of Life," I describe how we move mountains to cover the bases on safety and health care, but it's the simple molehills that can hurt our animals, from a gate left open by mistake to a rivalry over a dog chew, which happened with my dogs, and almost killed Murphy. In the comic story "Dissing the Dog" I describe how Murphy's ambition to catch a pigeon was roundly mocked by the neighborhood birds, because her hunting skills are clearly extinct, until the fateful day when a pigeon sort of fell dead at our feet.
Some of the essays were initially published in my Internet and print magazine column, Reflections from Murphy, which explored the mystical, cultural, and practical connections with dogs and was a finalist for the prestigious Merial Human-Animal Bond Award and for best Internet column from the Dog Writers Association of America. The book includes new essays that explore how we can deepen our connections with all life and comic stories about how my family figured out how to live together.
What do you mean by "bridging species"?
We bridge species and create multi-species families with our animal companions when we look at them as not just pets but family members. This is a new way of thinking about the human-animal bond and covers the mystical, cultural, practical, and even comic ramifications of choosing the complication of looking at animals as equals. I've read a lot on culture, animal issues, anthropology, ethology, conventional and alternative health care, behavior, ecology, physics, philosophy, and ancient and alternative spirituality, but my essays and stories are grounded in our everyday, real life with animals. What does it look like? What can it mean? How can we take the lessons of learning to live with other species and learn more about balancing our family lives, our community, and our planet? Could we at least have more dynamic family lives—and more fun?
If you love or are at least interested in animals, and think saving the world is a decent but perhaps vague idea, how about starting with taking a new look at your animal companions? If you agree they have souls, rights, responsibilities, consciousness, self-awareness, and free choice, everything just gets more interesting—and more complicated. I think it's worth it. Other people think it's bunk. Of course they're wrong! Many people are agreeing with these ideas, simply because they're starting to think of living with animals as family, not just pets. It can snowball from there, if you let it.
Animal rights? Do you mean like no fur coats, and not eating meat?
Yes and no. I can't speak for every being's choices. I can only try to figure out mine. We're just beginning to work out the concept of the rights of other beings, and how that plays out with our idea that humans should control everything—is that embarrassing or what? Equality is a broad ideal, tough in practice.
For example, I have to work and pay the bills to buy the groceries that we all eat. My dogs and cat have yet to earn a dime. But we've all chosen to live together. Sometimes I think they're really lucky that the cuteness factor works! I appreciate that they put up with me.
Another example. Is it a big deal that your dog wants to sleep in bed with you? Animal behaviorists are all over the board on that one. I was against it at first, but mostly because I'm selfish. I've learned to move over, and everyone is assigned a spot, the dogs, the cat—and me. People say, well, you can have dominance issues, especially with an aggressive dog breed. Well, why are you living with that breed? Or one so big it takes up all the space? Have some common sense. Start with the basics.
Yet another example, my current hot button. There's a constant problem in my neighborhood with dogs running loose. It makes me crazy. Most of them are big dogs; they are 50-100 pounds to my dogs, who weigh 20 (before breakfast). It's like a 400-pound person bumping into a 100-pound person: it's dangerous and stupid.
Plus, there are rules and laws we follow so we can be safe. You're not supposed to drive a car without learning how to drive and getting a license. Leash laws work the same way. Evolution doesn't happen in 20 minutes, or birds wouldn't still be flying into windows, and loose dogs would look both ways and use crosswalks. Our busy streets and crowded neighborhoods mean we have to take more care to keep everyone safe: my dogs are on leashes, and if yours aren't, keep them home. I can't believe the number of people who don't get this: the 1950's are over, people. We're living in a crowded world, and loose dogs are a danger to themselves and others. Mostly they don't have any sense. Neither do the people who are out with them.
Even when the dogs are on leashes, it doesn't often appear that the people are actually there, present with them, because they're on cell phones, listening to music, and just not paying any attention to their dogs. How sad—and boring. Where's the connection? If you're walking the dog because it's a chore, isn't that like taking out the garbage? What's the point?
So you're not talking about pie-in-the-sky ideals?
Well, of course I am, in part. Creating full, authentic families with animals can be hard and controversial, because we have to allow room for points of view that aren't exclusively human. That gives us plenty of mystical and cultural things to think, talk, and argue about. But if we're not tweaking mindsets, what's the point? We all live busy, complicated lives. Whatever they look like our families are living, emotional groups, they bend with circumstances and challenge us to grow. If you're lucky, you have plenty of good goofy moments as well.
It's easy enough to be practical with your animal family, just like with your human one. Of course there's the initial language barrier, which you can overcome like you do when you're in a foreign country where no one speaks English. Experiment. Ask questions. Listen for answers. Observe. Compromise. Pay attention, I can't say that enough. And learn from behaviorists and animal communicators, learn from your animals, and go on from there.
What is your story? How did you come to write about people and dogs—and cats?
In 1998 I bought a Cavalier King Charles Spaniel puppy, Murphy. When this good-natured, exuberant puppy became chronically ill, with one thing after another, I just plain got frustrated. I was handicapped with a foot disability and had suffered from a chronic, painful, debilitating condition for some years, and didn't want that painful life for either of us. Then I took a good, hard look and saw that Murphy's health issues increasingly mirrored my own. What was that all about?
I was also noticing Murphy's nuanced behavior to other people and animals, how she would size up the situation and adapt to it, from gently hugging a lonely elderly man to wildly kissing a young woman in a wheelchair. She was demonstrating a consciousness I'd thought reserved for humans. And she was clearly more street smart and people smart than I was! I started to wonder about what was going on in her head—and how I would find out.
And then there was the earthquake in Seattle on February 28, 2001. Two minutes before that 6.8 quake rocked us Murphy leapt up, snarling and barking, and did everything a 20-pound dog can do to drag me out of the house. By the time it was over, we had both deliberately acted to save the other's life, at risk to ourselves. It was clearly time to start thinking. About something .
I also decided it was time my dog and I both got well, whatever that meant, whatever it took. I had already explored healthy alternatives like yoga and supplements for myself, and now I investigated everything that could make sense, even if it was woo-wooey, from conventional to alternative wellness, including nutrition, herbs, acupuncture, acutonics, massage, chiropractic, energy work, and animal communication. Our shared journey to wellness became a family one.
At the time I was writing fiction. That's when I realized that the real story I needed to write was right in front of me—the true story of how a woman and a dog became well and created a family, including another dog, Alki, and a cat, Grace. This book, Bridging Species: Thoughts and Tales About Our Lives with Animals, is part of that story.
So describe your writing.
I write about re-imagining our relationships with nature and animals, especially with the animals in our multi-species families. It is a prelude to re-connecting with all life, to bring balance to our communities and to the planet by recognizing that we're all in this together. It's way past time for us to all get started on that.
Because of my intuitive work it is my experience that all life, whatever its physical form, has a soul, a separate and distinct personality, consciousness, equality, rights, responsibility, and free choice to do its work. This is a difficult concept for most people, yet I find many people are open to considering animals as equal beings. With my book, Bridging Species, I'm opening a dialogue about how we explore our relationships with other beings, beginning with those who are most familiar to us: the animals in our own families.
You are also an intuitive. What is that and and how did you get like that?
Yes, spooky. Woo-wooey. It was a surprise to me. I had started to research things like reincarnation, spirit guides, animal communication, and energy work as part of my search for answers, but I was always the objective journalist. Yet somehow my family's journey to wellness sparked my intuitive abilities, which enable me to telepathically communicate with animals, homes, businesses, and nature, including wild/domestic land and weather systems. Essentially I have conversations with these other beings. Sometimes they are fun, getting-to-know-you conversations, because these beings have all been waiting eons for us to remember that we can talk with them. But we also often have serious conversations about the work they do, and how we affect each other.
I have to say, what is going on when a skeptical, average, smart-alecky, middle-aged woman starts talking to animals and then to volcanoes and hurricanes and cars? And they talk back? Was it menopause or mental problems? Naturally I consulted my doctor. He said I was normal, but different. The volcano and car were amused. We've gone on from there. People ask me, why would you choose to be so different from everybody else? Well, I didn't know that I did. I must have, because I was open to it. And here I am. Sometimes it's nerve-wracking, but it's also the most important thing in life—it's having fun loving life.
© 2011 – 2014 Robyn M Fritz