My Books: Celebrating the Human-Animal Bond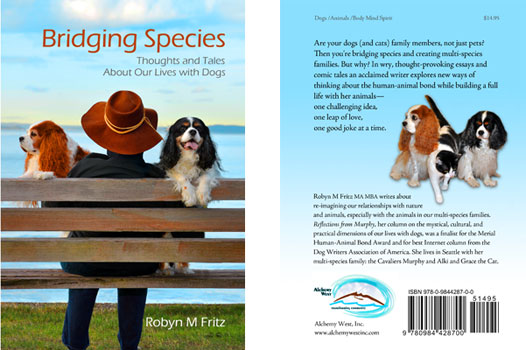 WINNER: The 2010 Merial Human-Animal Bond Award, Dog Writers Association of America. Check out our testimonials here!
A collection of thought-provoking essays and comic stories about how I created a multi-species family, from mystical and cultural thoughts to the bumbling practical difficulties and fun times. It chronicles my journey from a woman with a pet to a woman with a multi-species family—two dogs and a cat—and the ideas we can all explore together as we figure out how to live authentic, full, fun lives with animals. It is a gift book for animal lovers, mystical and cultural thinkers—anyone who enjoys provocative thinking and fun stories about animals.
BUY a personally autographed print book. $14.95 plus S/H. NOW $10 PLUS $4 S/H.
Now available as an updated e-book, only $4.99!
Buy from barnesandnoble.com or amazon.com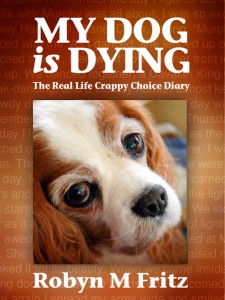 We live the human-animal bond in our daily lives with our multi-species families.
But how do we live its ending?
Follow one family's account of their last weeks with a beloved, dying dog. From a shocking cancer diagnosis to the choice to "walk the mystery" together, it is their raw, uncensored, loving, practical, intuitive, mystical journey through grief and death—and out the other side.
If we're lucky we get to love an animal: we're luckier still to find the courage and grace to say goodbye.
If you've ever loved—and lost—an animal, this story is for you.
Included:
the online diary entries
new articles on creating families with animals
inspiring practical advice on how you can live your own goodbyes, from veterinary and intuitive care to embracing grief
a call to save our dogs from the diseases caused by early spay/neuter
Available only as an e-book: from barnesandnoble.com or amazon.com
My Products
We have a few rare crystals and are the only source for our unique clearing mixture, Fallon Lavender Salt. It is made with fair trade coarse ground Himalayan sea salt from Solay Wellness and organic lavender buds. I mix it and Fallon infuses it. Teamwork!
Fallon Lavender Salt 
People will think it's just beautiful, but it keeps you and your space clear with the grounding and cleansing properties of salt and lavender, gently nourished by Fallon. Robyn and Fallon created this special salt mixture. The salt is from Solay Wellness: its coarse texture and faint pink glow is striking with Cedarbrook Lavender Farm's Provence lavender buds. Robyn mixes it, Fallon sits in it for a day or so until he announces it's ready, and then Robyn bags it up for sale. It's a way to experience Fallon's unique vibration in your home or office. Use it to clear your crystals or jewelry (be careful of salt corrosion) or your home or office.
Available from Alchemy West. Email for pricing: sizes from 1/4 cup to 1 pound.
Rare Crystals for Personal Growth and for Energy and Intuitive Workers
Columbite for grounding, protection, and quick chakra clearing; Lemurian jade and Lemurian crystals (we call them Fallon Babies) for energy workers; chrysoprase for creatives; Preseli bluestones for high vibration interdimensional work; and one rare, powerful grid for Reiki or energy workers (ask me about it!). All sourced from Deidre Berg of Chrysalis and connected to Fallon.
Gift Certificates
For personal intuitive consultations with Robyn and Fallon, space clearing for new homes or businesses and transitions.
Coming Soon
Easy Writer Fast Fun Storytelling Workshop. My popular workshop will soon be available for purchase as an e-book. It's the fastest, easiest way I know to learn story structure.
Crystal Sets. Small collections of unique crystals sourced from Deidre Berg and cleared by Robyn and Fallon. Created for special vibrational properties.
Bomboozled. What happens when a stubborn woman and a big goofy dog decide to solve a mystery the FBI hasn't solved in years? And her ex-husband shows up with a suspicious brother, and … Robyn's comic mystery, coming soon as an e-book.
Contact Robyn for these products. They will soon be available for shipping.
©2012 – 2014 by Robyn M Fritz