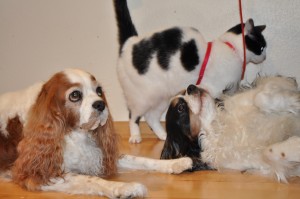 Here I'd been thinking I was just a bit off. And, as usual, not regretting it a bit.
When I think about being a bit off, I understand that I'm more off than normal. At least that's what some people tell me, because I'm making a living in partnership with a crystal ball (literally). I did, however, think that I might just be the only person out there who bought a home, and a car, for my animal family.
Thanks to Yvonne DiVita over at BlogPaws I discovered a funky website called Daily Infographic. Where I discovered, in "20 Facts about Pet Ownership," that I am in the minority but not all alone out there, doing whatever makes sense for my multi-species family.
See Item 7: "16% of dog owners and 14% of cat owners say they bought a home or a car with a pet in mind." That includes me.
Even back when I didn't have an animal family.
Back in 1998 I decided I wanted a dog again in my life, after grieving for my beloved English Cocker, Maggie, for 12 years. My landlord wouldn't allow pets, so I bought a condo. A few months later an irrepressible, goofy Cavalier King Charles Spaniel, Murphy Brown, came home to live with me.
Thirteen years later we're both still here, aging together. We've been joined by another Cavalier, my goofy boy, Alki, and Grace the Cat.
The  condo wasn't the only thing I bought. By the time Grace the Cat came along 8 years ago it was clear we had car issues. The fancy Audi I'd bought to drive long distances to visit my nephews was impractical. I needed a family car: something easy to get into and out of with two dogs and a cat in tow.
The Audi went and a Toyota Matrix came. It's a whole lot easier to get around in. Especially with the animals in tow.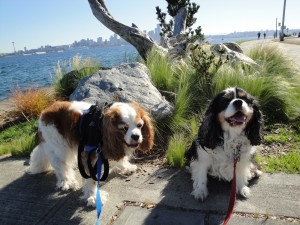 And the condo? I love our condo. My multi-species family loves it. I planned for it to be a place where kids and dogs could come and go while enjoying the beach in our salty, sandy Seattle beach neighborhood. It worked really well for that. What I didn't count on was the most obvious of all—my animals would age.
The human-animal bond is a strange and wonderful thing. Trying to live a thoughtful life is tough enough alone. Adding animals to the mix can be devastating. I wouldn't trade it for a life without them, but I can't sugarcoat it.
That's where we've become our own strange statistic. Not surprising, really, considering the things we've shared, from past lives to a cherry addiction.
And a new, tough thing. Murphy and I share a gruesome arthritis: our futures our written in our spines.
It means we need a home where we don't have stairs. I can do them okay for now, but it's hard to carry things. Like groceries and handicapped dogs. As I watch Murphy gamely do the stairs, and Alki begin to hurt as well, I see time running out.
It means we'll have to leave the home I bought for us to live in.
I love our home. My work means that I talk with all life. Our home, Frank, is a real living being, an active presence in our lives and our work. But we'll have to leave him behind.
People say: "Really? You'd give up your home for a 13-year-old dog?"
To which I say, "Well, wouldn't you?"
© 2011 Robyn M Fritz