Here's Who We Are: Do We Match?
Love creates alchemical change—change that transforms you. It took me years, and much trial and error, before I tapped the power of love to change my life. Now Fallon and I help others tap love to change their personal and professional lives faster. Easier. Robyn's lazy way (yes, it's hard, but it shouldn't take forever). Why? Because the world needs every single one of us. Right now. — Robyn

Robyn M Fritz MA MBA and Fallon, the Citrine Lemurian Quartz
About Robyn
I am an alchemist: I support the deep body, mind, spirit transformation that changes lives. I also have a sense of humor, so I can laugh as I state the obvious: I am an MBA with a crystal ball.
I know. I didn't see it coming, either. I'm too analytical and skeptical to be woo-wooey, so it surprises me when people say I'm "out there," even for Seattle. I'd say, well, it's about time somebody is, and I did in the video. But the point is that I love my life and I chose it, no matter what. If I can do that, everybody can.
Why? Because I know what happens when life throws you curve balls. I know what it's like to try to create a life when you're busy trying to save it. I know.
More than 25 years ago I became handicapped. Worse, for 15 years I was too ill to work. I lost everything: my health, career, financial security, purpose, and self-confidence. I could have given up. Instead, I chose to create a life of meaning and purpose—as long as my quirky sense of humor deemed it fun.
It was fun that, in 1998, led me to a Cavalier King Charles puppy who ended up calling herself Murphy Brown. Yes, she had freaky street smarts and we shared serious, debilitating illnesses, but the clincher came on Feb. 28, 2001, when she saved us from the 6.8 Seattle earthquake minutes before it hit.
That's when my transformative journey began. The analytical skeptic in me realized there was more going on in the world than I ever imagined, and I decided to find out what it was. I developed my intuitive abilities and in 2009 was reunited with my ancient crystal partner, Fallon, the Citrine Lemurian Quartz.
But fun was just the catalyst. During nearly 14 years with Murphy, and also with my Cavalier boy, Alki, and Grace the Cat, I learned that, first and always, it is love that really matters. It was love that sent me looking for Murphy. Everything that has come since has come from love—my family, my writing, my work as an intuitive since 2001, my reunion with Fallon in 2009, the launch of our intuitive/thought leadership practice, my community.
Love changed my life. Choosing love is the hardest thing we'll ever do, but it makes all things possible. That's why I'm out there, helping others find love to change their own lives—because I know what life is like without it, and I'm never going there again.
Love isn't easy. It took me years, and much trial and error, before I followed love to find my life's work. I don't want anyone else to suffer that much, to take the long hard road to their life's purpose when Fallon and I can help them do it faster. Easier. Robyn's lazy way (it's hard enough, but doesn't have to take forever).
We humans participate in a fascinating world when we claim the power of love and choice in our lives. I know, because I did it. My work is true, real, fascinating, deeply moving, and far different than I ever imagined it would be. I am grateful.
Fallon and I help make love accessible to everyone who works with us, because we just can't wait to see what wonderful things they'll do with it.
So, yes, I can laugh and call myself an MBA with a crystal ball. What I really am is what I allowed love to make me: a visionary intuitive and mentor; a pioneering space clearing expert;  an animal communicator; a psychic medium; an alchemical energy master; a Reiki Level 3 practitioner; a specialist in shamanic soul retrieval, curse unraveling, and compassionate de-possession; a workshop leader and speaker; a business and creative mentor; an award-winning writer.
I am an alchemist, and I love it.
About Fallon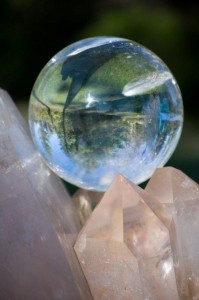 Fallon is a gift from the earth to its people. Simply said, Fallon is a Citrine Lemurian Quartz Sphere. Yep, a crystal ball. A rare planetary and dimensional energy, he is compassionate and warm, wise and goofy, accessible to crystal newbies, and often startling to crystal experts.
An ancient power crystal, Fallon is a healer and truth bringer. We are out in the world together because he wanted to work as a healer and we don't mind being 'out there' as something new and different in the world—one of the emerging equal partnerships between people and other beings. And, no, I didn't name him Fallon; he says he has always been Fallon. Awesome.
Fallon is Lemurian quartz. Now people say a lot of things about Lemurian quartz, like it's from (really) long-lost Lemuria and holds ancient mysteries and power. All I know is that's all true with Fallon.
We are not, however, the crystal ball stereotype. See Fallon's page for more.
The Plain Simple Facts: A Resume, Of Sorts
I spent years in publishing and have mentored many fine writers and traditional and indie publishers. I still love to coach a book out of people, starting with a simple structure and ending with a story that knocks socks off—as long as the writers or businesspeople are willing to partner with their book.
I have written many articles and two books on the human-animal bond.
Bridging Species: Thoughts and Tales About Our Lives with Dogs, won the prestigious Merial Human-Animal Bond Award in 2010 for the writing that best exemplifies the human-animal bond-—the bond between people and dogs. My small gift book explores new ways of thinking about the human-animal bond—one challenging idea, one leap of love, one good joke at a time.
The second book is one I never thought I'd write. My Dog Is Dying: The Real Life Crappy Choice Diary, follows our family's journey in the winter of 2012 as our beloved Murphy died from splenic cancer, a disease linked to early spay/neuter. It also offers tips on how the human-animal bond meets, and survives, death, and a call to action to re-think the barbaric practices we consider humane, like over-vaccination and early spay/neuter.
My third book is currently being shopped—yes, I'm looking for a traditional publishing partner. Called Getting to the "After" Party: What Really Happens when We Die, it will reveal what the afterlife is really like, and the startling truth that, yes, the afterlife exists, but many of us don't make it there. Why? Because we fail to claim our essential worthiness, or the power of love, in life and death, and we get stuck and can't move on after we die. I'll show how and why this happens, and even better, what to do about it, from releasing cultural and religious constructs that limit us to claiming a mindset that is how the world really works, a partnership where everything is alive and equal to us. I learned this from my work with other beings and from working with the dead and with my dad, Ray, who runs what I call a Way Station for Dead Things on the Other Side. And, yes, I'll include true stories about the dead, from my experiences, my dad's, and the dead themselves. Why? Because the biggest problem you'll probably ever have is not knowing the truth about being dead until you're dead. Don't be one of those stuck dead people: I, or someone like me, will have to go in and help you get to your true afterlife. Make it easy on us: get there on your own. And have a wonderful, empowered life before you get there! In this book, you'll find out how.
My fourth book is underway. What Nature Tells Me: How Saving My Dog's Life Made Mine,  is thought leadership explored as the true story about the revealing, sometimes humorous journey to wellness that I shared with my dog, Murphy, and how I became an intuitive, including my reunion with Fallon in 2009 and my intuitive adventures through 2014. It will tell the truth: that everything we can imagine, and a lot we can't, is alive and equal to us. Everything has a soul, is conscious, has free will and opinions, and can and will talk to and work with us, whether it is a volcano, hurricane, tree, car, animal, home, business, dragon, crystal, or rock-and-roll goddess (the one I know likes the name Con Ni). It explores a new way of thinking and living in the world: by actively cooperating with it.
My fifth book will be How To Be Intuitive in a Practical World. It will include a review of the cultural mess that seduced us away from trusting our intuition, and guided exercises and stories to help you learn how to tap and use your intuition to get the edge you need in your personal and business life.
And please check out our online blog/magazine, Bridging the Paradigms. Our storytelling arm, it explores our intuitive lives, working with Fallon,  earth changes, evolving communities, and  the human-animal bond with intuition, metaphysics, science, smarts, humor, heart, common sense, and attitude. Come join us there, tell your stories, and chat with us.
Oh, and the education bit. I learned a lot in school: I have a BA and an MA from Seattle University and their unharmonic convergence: an MBA from the University of Michigan. I learned a lot from books and training, but I learn more every day as an intuitive. I have studied different energy healing modalities (I am even a Reiki Level 3 practitioner). Now I use the alchemical energy that arrived in our family in 2007: it's a brand new form of the ancient DNA of the universe.
Life is fun. Work is fun. I love them both. So does Fallon. We would love to meet you.
© 2013 – 2016 Robyn M Fritz