Who I Am
"Frequently startled, never scared"—that's how I described my experiences, myself, and my work at a cocktail party, where I told a frustrated landlord that he'd have less turnover in his (once again) hastily vacated rental if he hired me to bust the ghost that was clearly haunting it.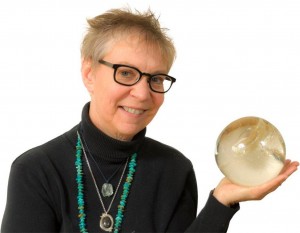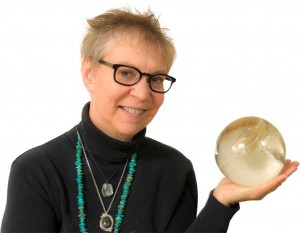 He didn't, but I could have. Too bad for him, his rental—and the ghost.
My name is Robyn M Fritz and I'm an alchemist. No, I don't change lead into gold (it would ruin the value of gold). Instead, I'm a conversationalist, so I talk with things—with people, yes, but also the dead, animals, houses, businesses, and land and weather systems (like gardens, volcanoes, hurricanes, and earthquakes). I help them decide what to do next, whether it's getting along or moving on. It is alchemy, or transformation, that matters, but it's not what I ever thought I'd be doing.
I started out wanting to be a cowgirl (the pants were too tight). I grew up to be a good corporate citizen and a high-achieving smart woman, determined to be highly overeducated (which I am, combining a BA, an MA, and their weird offspring, an MBA from one of the top schools in the nation, the University of Michigan in Ann Arbor). Along the way I was a publishing executive and freelance writing coach.
One thing stuck: I always wanted to be a writer (and I am, with two published books, one a national award winner, an active blog, and more books underway). Then …
Well, first a question. If you had the chance to see your life unspool like a goofy fantasy novel if you just did one odd but satisfying thing, would you do it? Of course you would. I know because I'm just like you, and I did.
Before that happened, though, I became handicapped. That was more than twenty-five years ago; for over fifteen years I couldn't work at all. I lost everything—my health, career, financial security, purpose, and self-confidence—everything but my family and a few friends, my rebellious stubborn streak, and my quirky sense of humor. Whenever I thought about giving up, I recommitted to creating a life of meaning and purpose, as long as it was fun.
That included buying a $175,000 dog (okay, a condo so I could buy a dog, but still), which was when everything changed. In the years that followed I learned what love meant (it's tough, no-nonsense, and the foundation of the pioneering, visionary mindset I teach). I also became a conversationalist, or what others would call a crackpot, psychic medium, intuitive, or ambassador between dimensions. (Think dragons, Sasquatch (never call them that), and the "a" word. Really.)
I'm also a true-blue American, which means I have to blame all this on someone else, so I will.
I blame the dog. And the earthquake.
I knew my dog, a Cavalier King Charles spaniel who called herself Murphy Brown, was unusual right from the start, in October 1998. Yes, she had freaky street smarts and we shared serious, debilitating illnesses, but the clincher came on Feb. 28, 2001, when she saved us from the 6.8 Seattle earthquake minutes before it hit. Astounded, I realized I was living with a scientific breakthrough—a Cavalier early warning system (scientists can't tell us when an earthquake is coming, but my dog could, and did). Fascinated, I stared at her, exclaiming, "There's more going on in the world that I ever imagined, and I'm going to find out what it is."
So I put on my science-y hat, and when that didn't completely explain things, I put on an intuitive one as well. If you think that's weird, consider who I am:
A devoted, conservative cradle Catholic who once dreamed of being a nun (cloistered, no less), but who ran screaming from religion at age 35, and hasn't looked back since (and won't).
A repressed good girl who couldn't imagine getting a divorce, and did anyway (I got the clothes on my back, the silver, and the dog, and he got a new wife).
A rational, analytical, skeptical person who doesn't believe in anything she doesn't experience, no matter what. (Especially if it's god, New Age hokum, or quantum physics, come on, people, really?)
A seeker who read and thought (a lot), didn't find answers, and so created a new way of living and thinking in the world called Planetary Connection. (And it works, just ask my students.)
A hard-driving, highly educated professional who is a rebel and an outcast by choice (I think).
What am I now?
A soul regression hypnotherapist, with specialties in past life regression, between life regression, and spiritual awakening (because souls are real, eternal, and have a lot to teach our skeptical minds and yearning hearts about the one thing that matters—love).
A professional intuitive who offers mediumship, animal communication, space clearing, intuitive insight, and alchemical energy healing (with my own personal stamp, because that's what mavericks do, they just can't help themselves).
A nonfiction writer (because you just can't make up stories that are stranger or more fascinating than the real life ones I tell).
An entrepreneurial MBA who works with a crystal ball. Literally. Yep, I kind of tried to prepare you, but you never saw that coming, did you?
I Am a Professional Intuitive: What Was I Thinking? (All Good Things!)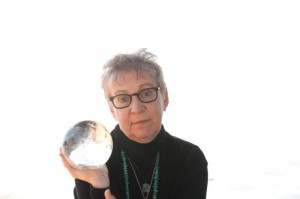 Why did I do this to myself? Let me explain.
I began my intuitive practice exploring animal communication with my wonderful Cavalier, Murphy. Our healing journey together and the astounding world that lead us to made the Robyn of today (and the astonishing dog who died on March 8, 2012). I was content with animal communication, but in 2004 something strange happened: I began having conversations with cars, houses, hurricanes, volcanoes, and other beings I had no idea could, or would, talk with us (and come on, neither did you). It was fun, hilarious, deeply moving, and, frankly, disturbing.
Even now, donkey years later, I still run into people who don't know about animal communication, which has been around for over 40 years, nor do I know people who openly acknowledge they work with ancient power crystals, let alone weather and land systems. Sure, back in 2004 I led a hermit's life because of illness and disability, but my experiences were … unique. A talking car who insisted it was mine, and prompted me to send three dealers on a five-state search for it? (Yes, I found it, and it is still the family car.) A rumbling volcano with a strong desire to show off by erupting? (We talked, and Mount St. Helens changed her mind.)
With a true scientist's heart, I naturally assumed I might be insane or have a brain tumor (or both), so I decided to be rational about it and ask my neurologist, who was treating me for chronic migraines. He heard me out, then astonished me by asking me how my experiences were any different than talking with animals, which he knew I did.
"You don't think that's different?" I asked.
"I think you're normal. For you," he replied, grinning.
With that pronouncement I was suddenly free to get on with it, whatever "it" was. That turned out to be the intuitive practice I established, which includes my own method of doing everything, because, again, that's what pioneers do. (We just can't help ourselves.)
Below is a formal, SEO-worthy business bio, but it isn't me.
The plain truth is that I know how good and how very bad the world can be, because I'm bright, talented, and handicapped. Because I'm a fighter, not a quitter, although sometimes that would be easier. Because I'm excruciatingly honest, sometimes naïve, and always a visionary pioneer who knows from hard experience that the one thing that matters in the world is love—the tough, no-nonsense, exhausting love that can, and will, change the world (because ultimately the world will insist upon it).
Love created my visionary mindset, Planetary Connection, that embraces a world where everything is equal to humans and is alive, has a soul, consciousness, responsibility, free choice, and an attitude. Love got me, the intuitive hermit, out of my shell and into the world to support all life in partnership with our conscious, evolving planet through private sessions, workshops, talks, mentoring, and writing.
Love also helped me to create a new way to talk with the dead—by stepping away from "traditional" mediumship to facilitate my own brand of honest, insightful connection for healing and closure. I tell the stories the dead tell about themselves, because they are fascinating, compelling, convincing, and give vivid context to the theory and mindset I present.
Love also helped me to understand that there is a category of the dead that most of us, whether we are mediums or not, simply don't or won't talk about. My dad, Ray, who's been dead since 1994 and runs what I call a Way Station for Dead Things on the Other Side, asked me to help these people: I call them the stuck dead. They are people (and animals) who haven't made it to the other side but stay in a place I call the Gray Zone, a transitional dimension between life and death. (Sometimes they are simply hanging out while they shed the denser energies connected to bodies, but often they just can't move on.)
The more I talked with the stuck dead the more I recognized that they get stuck and can't move on because they simply don't love themselves. While that was both horrifying and depressing, it also gave new meaning to the term "peace on earth": I saw that this profound lack of love had created a huge energy block that stifles not just the dead but the living and the planet itself. If we want to create utopia, or at least a vibrant world, then we have to live the truth about death, while blasting that energy block into smithereens. We start by letting go of the messed-up cultural conditioning that has impaired our lives and, clearly, our deaths—yes, we start a revolution.
When I understood that, I realized that everything that made me who I am today—from the repressed child to the impatient, cantankerous rebel—at last made sense. The rebel, the seeker, the visionary, the maverick, the warrior-woman-in-waiting prepared me to step beyond convention and into open-ended "what if" thinking. Without the restrictions of traditional thought I was free to create what worked; in this case it was a rapid-fire method to remove the energy block by literally helping thousands of the stuck dead all at once release despair, claim love, and move on to their real afterlife, no matter how, when, or why they died, and no matter what they thought about death or themselves before or after they died.
What happens when the dead successfully transition? They get a chance to live love, to freely choose what their souls get to do next, and we all win. When they don't, we are all diminished, because love loses, and that's simply wrong.
Helping People Find Their Way to Love
Love is why I do what I do, no matter what.
Love is why my work matters to you.
Why? Because most of us share the same problem the dead have: we don't love ourselves. I should know. I was like that once, someone who didn't love myself.
Love isn't easy. It took me years, and much trial and error, before I followed love to find my true family and my life's work. I don't want anyone else to suffer that much, to take the long hard road to their life's purpose when I can help them do it faster. Easier. (It's hard, but it doesn't have to take forever.)
We humans participate in a fascinating world when we claim the power of love and choice in our lives. I know, because I did it. My work is true, real, fascinating, deeply moving, and far different than I ever imagined it would be. I am grateful.
I work to make love accessible to everyone who works with us, because we just can't wait to see what wonderful things they'll do with it.
Every service I offer has love as its central theme, whether I'm offering soul regression hypnotherapy, shamanic services like "curse unraveling," "soul retrieval," or "compassionate de-possession" (shamanic ways of exploring past lives and energy blocks), talking with animals, talking with the dead, clearing a home or business, conducting an alchemical energy healing (Reiki Level III practitioner), teaching workshops, or giving talks.
I am an alchemist. I help you let love create balance, clarity, and transformation in your life. Because you matter. Yes, you.
My Completely Serious (Dry and SEO-worthy) Bio
An alchemist, or transformation specialist, Robyn M Fritz MA MBA is a certified hypnotherapist offering soul regression hypnotherapy (past life regression, between life regression, and spiritual counseling), and shamanic-like services from soul retrieval, soul purpose, curse unraveling to compassionate de-possession (shamanic takes on soul regression and energy blockages). Robyn offers intuitive services, including mediumship, animal communication, house and business blessings and space clearing, and alchemical energy healing. She also teaches workshops on intuition, is an inspirational and motivational speaker, and mentors intuitives.
At her firm in Seattle, Washington, she combines over 30 years of creative business experience with practical, intuitive insight to help emotional healthy cultural creatives and conscious adults get an edge in their personal and business lives.
Robyn has worked as an intuitive for over 10 years. She offers soul regression hypnotherapy and shamanic-like services to support her clients' spiritual journeys. She uses her pioneering form of space clearing, called Space Cooperating, in homes, businesses, and real estate to support healthy change and to resolve trauma, from ghosts and the paranormal to health and business issues; this method works by directly consulting with the space to be cleared to determine its needs and wants and to mesh them with human ones.
As a pet psychic, she supports the human-animal bond and multi-species families by consulting on health, behavior, lost animals, and dying. As a psychic medium she connects with deceased people and animals for closure and healing in a unique way—by working with her deceased father, Ray, who runs a Way Station for Dead Things on the Other Side. As an intuitive she works with individuals and professionals on creating powerful, productive lives in tune with intuition. A certified Reiki III practitioner, she works with alchemical energy, a new form of the ancient DNA of the universe that arrived in her family in 2007.
Robyn teaches workshops and gives talks on intuition and mindset around the Pacific Northwest, including Bastyr University, a leading naturopathic university, and has been a radio show guest and a guest blogger and columnist. She earned an MA and BA at Seattle University and an MBA from The Ross School of Business at The University of Michigan. She also is a certified hypnotherapist licensed in the state of Washington.
For over 20 years Robyn also developed book projects as a creative coach and publishing professional. An award-winning author of two books on the human-animal bond, Robyn blogs about intuition and culture at her blog.
Her books include: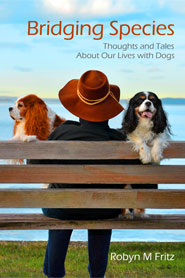 Bridging Species: Thoughts and Tales About Our Lives with Dogs won the prestigious Merial Human-Animal Bond Award in 2010 for the writing that best exemplifies the human-animal bond—the bond between people and dogs. This small gift book explores new ways of thinking about the human-animal bond—one challenging idea, one leap of love, one good joke at a time.
The second book is one she never thought she'd write. My Dog Is Dying: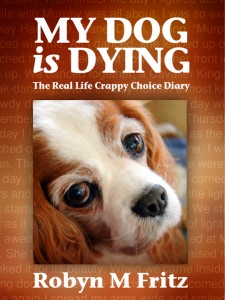 The Real Life Crappy Choice Diary follows her family's journey in the winter of 2012 as their beloved Murphy died from splenic cancer, a disease linked to early spay/neuter. It also offers tips on how the human-animal bond meets, and survives, death, and a call to action to re-think the barbaric practices we consider humane, like over-vaccination and early spay/neuter.
Her third book is currently being shopped—yes, she's looking for a traditional publishing partner. Called Getting to the "After" Party: What Really Happens when We Die, it reveals what the afterlife is really like, and the startling truth that, yes, the afterlife exists, but many of us don't make it there. Why? Because we fail to claim our essential worthiness, or the power of love, in life and death, and we get stuck and can't move on after we die. The book will show how and why this happens, and even better, what to do about it, from releasing cultural and religious constructs that limit us to claiming a mindset that is how the world really works, a partnership where everything is alive and equal to us.
And, yes, it will include true stories about the dead, from her experiences working with her dad on the other side and with the dead themselves. Why? Because the biggest problem you'll probably ever have is not knowing the truth about being dead—until you're dead. Don't be one of those stuck dead people: someone like Robyn will have to go in and help you get to your true afterlife. Make it easy on us: get there on your own. And have a wonderful, empowered life before you get there! In this book, you'll find out how.
Robyn's fourth book is underway. What Nature Tells Me: How Saving My Dog's Life Made Mine is thought leadership explored as the true story about the revealing, sometimes humorous journey to wellness that she shared with her dog, Murphy, and how she became an intuitive. It will tell the truth: that everything we can imagine, and a lot we can't, is alive and equal to us. Everything has a soul, is conscious, has free will and opinions, and can and will talk to and work with us, whether it is a volcano, hurricane, tree, car, animal, home, business, dragon, crystal, or rock-and-roll goddess (the one Robyn knows likes the name Con Ni). It explores a new way of thinking and living in the world: by actively cooperating with it.
Robyn's fifth book will be How to Be Intuitive in a Practical World. It will include a review of the cultural mess that seduced us away from trusting our intuition, and guided exercises and stories to help you learn how to tap and use your intuition to get the edge you need in your personal and business life.
Please check out her online blog/magazine. Her storytelling arm, it explores our intuitive lives, working with her crystal, Fallon, earth changes, evolving communities, and the human-animal bond with intuition, metaphysics, science, smarts, humor, heart, common sense, and attitude. Come join her there.
From Robyn
Life is fun. Work is fun. I love them both. I would love to meet and work with you.
Oh, in case you're wondering, I do something besides work all the time.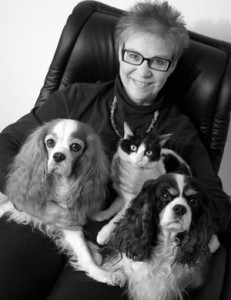 In this picture you'll see my beloved family several years before, well, death struck. Murphy is the Blenheim Cavalier (red and white), Alki is the tricolor Cavalier, and Grace the Cat is, well, the cat (she was the dogs' idea). Murphy died in 2012 of hemangiosarcoma, Alki died horribly and too soon in 2014, and Grace the Cat is going into her senior years wondering why there's a puppy in the house. That would be Oliver, the Blenheim puppy who is tricolor Alki reincarnated (memories intact). And that is a story for another time. But look in their eyes: you can see that same soul looking back at you (and it was in Murphy, too). See, what I do is real.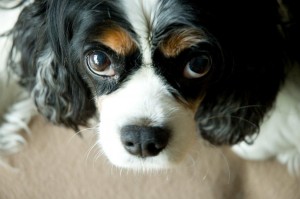 I live (and love) with Oliver, the Cavalier King Charles spaniel, in a nature-filled neighborhood on Puget Sound. Yes, with whales, sea lions, seals, dolphins, and things like that out there, and, on land, coyotes, river otters, possums, foxes, bald eagles, osprey, and even humans and cats and dogs.
It's as wild as you can get and still be near a grocery store. See, I have my priorities straight. Love. Eat. Live. Come back and do it again.
© 2016 – 2017 Robyn M Fritz